Do you feel like your home is being watched? Are there strange sounds coming from the walls that you can't identify? If so, it may be time to begin thinking about installing a hidden camera in your own home. This task can seem daunting at first – after all, who knows what kind of damage could be done by cutting into the wall!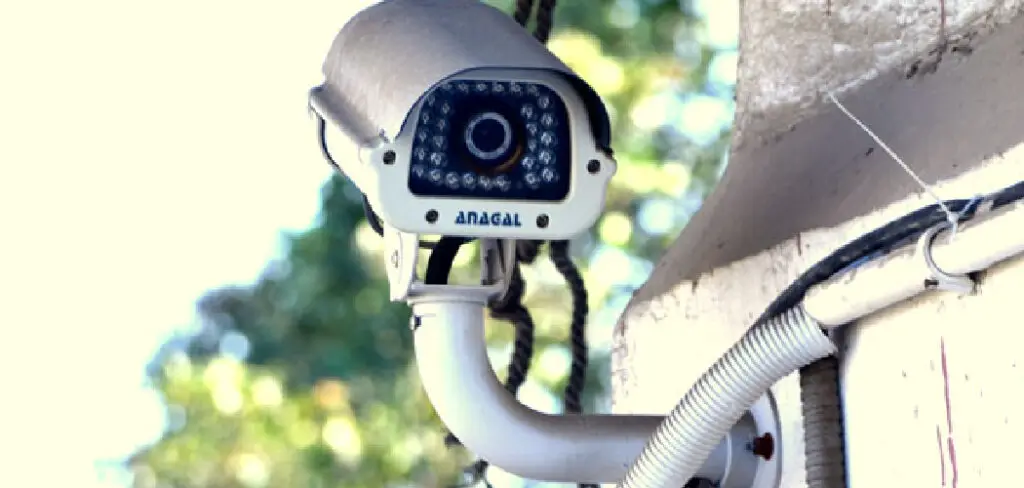 However, using modern technology and easy-to-use products such as custom panels and wireless cameras, anyone can learn how to install a discreetly perched surveillance device without causing any damage.
In this blog post, we will teach you step-by-step instructions on how to hide a camera in a wall – so keep reading if you want to start feeling safer and more secure in your own home!
Can You Hide a Camera on A Wall?
Installing a hidden camera in your home can be a great way to monitor activity and keep an eye on your property. With the right trepidation, you can hide a camera inside or behind items on your wall. Many camera manufacturers sell cameras specifically designed for this purpose that is intended to blend into their surroundings to make them less noticeable.
To further mask the presence of a camera, items like paintings and posters can be used as decoys to conceal where the camera is actually located. Mounting the camera in other places, such as behind furniture, plants, or inside clocks or smoke detectors, can also prove effective since these surfaces offer natural ways of camouflaging the device.
Why Should You Hide a Camera on A Wall?
It's always a good idea to protect your home or business with security measures, but not all of them are effective. For example, installing a hidden camera disguised as part of the wall is an incredibly discreet and efficient way to monitor any space.
Its hidden design and motion detection capability can detect intruders while they remain unsuspected, recording crucial evidence that could be used in court if needed.
In addition, having one of these devices installed in your home or business adds a sense of assurance, providing peace of mind that your loved ones and property will remain safe even when you're not around. So why haven't you already added this valuable security feature to your space?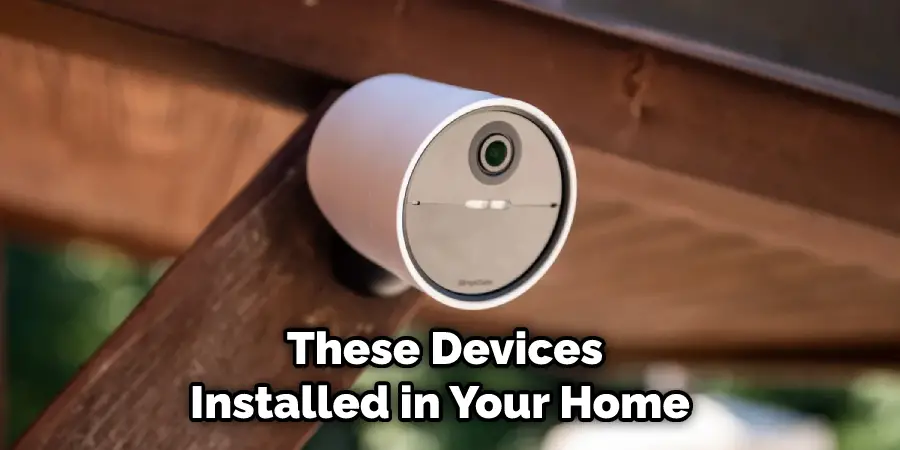 7 Steps to Follow on How to Hide a Camera in A Wall
Step 1: Choose an Appropriate Location
It is important that the location you choose for your camera is appropriate for the purpose you have in mind. For example, if you want to capture footage of an area outside your house, then mounting it directly onto the wall facing outwards is ideal.
However, if you're looking for more inside coverage, it's better to mount it on the wall near a corner or other high-traffic points to get a more comprehensive angle with less movement and less chance of being discovered.
Step 2: Find a Spot for Wiring
Before proceeding with installation, ensure you have easy access to wiring to power and link up the camera. Either running wires can do this through existing outlets or cutting holes into walls and ceilings where necessary. Either way, ensure there is enough slack around corners and other tight spots so that pulling the wire isn't too difficult. 
Step 3: Mounting
Once you have chosen an appropriate spot and installed wiring accordingly, it's time to mount the camera onto the wall. This should be done using thoughtfully placed screws that are long enough to hold up the camera's weight but not long enough to come out of the wall.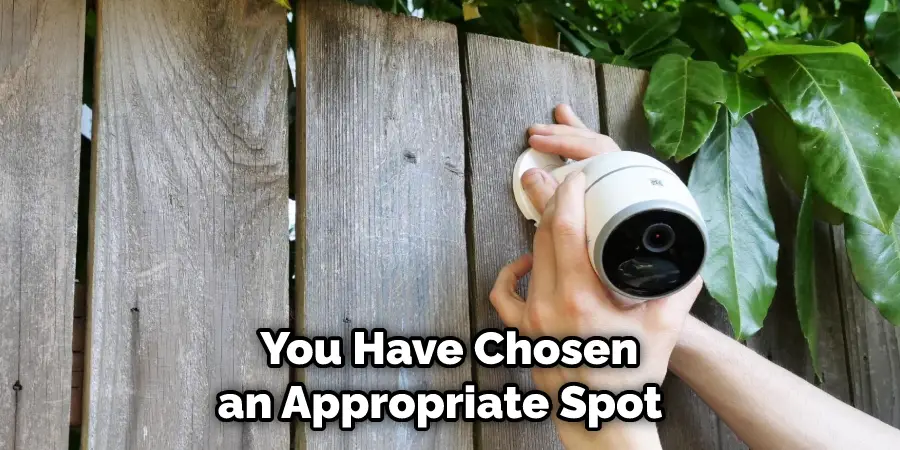 When putting up screws, ensure they don't go too deep into the wall, as this could damage any wiring behind it.
Step 4: Connecting Wires
Next, connect the wiring from the camera to power outlets and existing networking cables. This will give you access to your live footage on any device connected to the same network, allowing for easy monitoring no matter where you are.
Step 5: Adjusting Camera View
After connecting the wires, adjust the camera's angle to capture a wide range of footage. This can be done by using a remote control or manually adjusting the screws, depending on how adjustable your camera is.
Step 6: Securely Fastening the Camera
Once you have adjusted the view, make sure to securely fasten it onto the wall using additional screws if necessary. This will ensure that it won't fall off even if someone bumps into the camera.
Step 7: Testing and Regular Maintenance
The last step is to test your setup by connecting the camera to a device and seeing how the footage looks. This will allow you to make any necessary adjustments to angle or placement. Once this is done, set up regular maintenance sessions to check how the camera is functioning and if any changes need to be made.
That's it! You've now learned how to hide a camera in a wall and how to set up your own surveillance system. With the right steps followed, you'll have no problem getting up and running with a security monitoring system. Good luck!
Things You Need to Know Before Hiding a Camera on A Wall
Hiding a camera on a wall can be beneficial in multiple ways, such as using it as a surveillance system or monitoring pet activity. However, if you're considering hiding a camera in your home or workplace, you should keep some important things in mind.
First off, you'll need to have the right hardware for the job; the camera needs to be lightweight and small enough that it won't be easily discovered. Additionally, you'll want to ensure that the camera can capture audio clearly even from far away; otherwise, it won't serve its intended purpose.
Finally, due to laws and regulations surrounding recording video footage, it's important that you research local guidelines for video recording before proceeding with your installation. With these considerations in mind, you're sure to have seamlessly hidden cameras up and running in no time!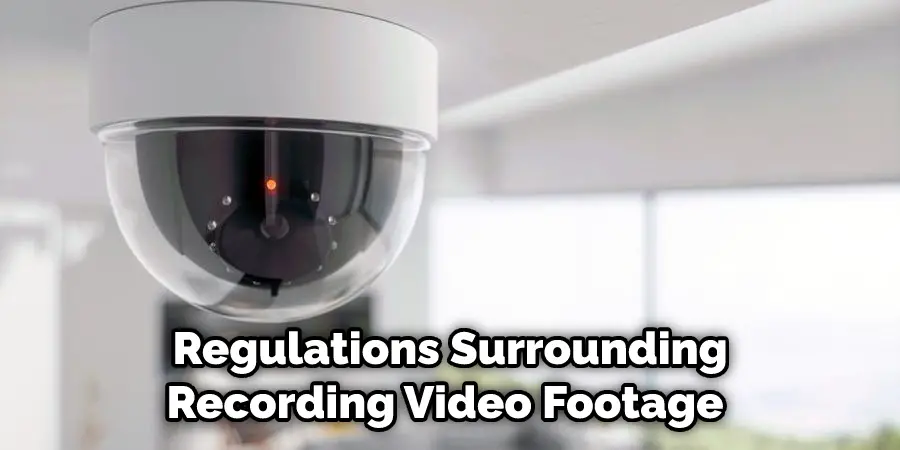 Benefits of Hiding a Camera on A Wall
A wall-mounted camera is one of the most popular solutions for security needs. It provides an excellent option for homeowners and small business owners who want to keep an eye on their surroundings without having someone constantly monitor a security feed.
Not only does this kind of camera help deter crime, but it can also alert users if suspicious activity has been detected in their absence. Additionally, because these cameras are mounted out of sight, they can capture high-quality footage that isn't obstructed by other objects, such as plants or furniture.
Hiding a camera on a wall also ensures its recording capabilities won't diminish due to weather conditions, giving users peace of mind that any threats or incidents will be captured and documented accurately.
The Best Time to Hiding a Camera on A Wall
The best time to hide a camera on a wall is when nobody is around. This helps keep the installation discreet and ensures that any footage obtained by the camera remains confidential.
Depending on what type of footage you wish to capture, installing your camera at night or early in the morning can be ideal since there are typically fewer people and less chance for someone to notice your placement. Ensuring that the area surrounding the wall is well-lit can also be helpful, as this helps detect any other possible observers.
Being aware of potential reflections off windows and glass surfaces can be important as they may uncover hidden security cameras. Finally, if you're placing outdoor cameras, consider camouflaging them with materials like bark, leaves, or vines that blend into their environment.
6 Common Mistakes People Make When Trying to Hiding a Camera on A Wall
1. Not Hiding the Camera Properly
One of the most common mistakes people make when trying to hide a camera is not hiding it properly. If the camera is not hidden properly, it will be easily visible to anyone who knows where to look for it. However, you can do a few things to ensure that your camera is properly hidden.
First, ensure the camera is not placed in an obvious location. Second, use camouflage or other materials to blend the camera in with its surroundings. Third, ensure that the camera is not placed in a location where it will be easily spotted by someone looking for it.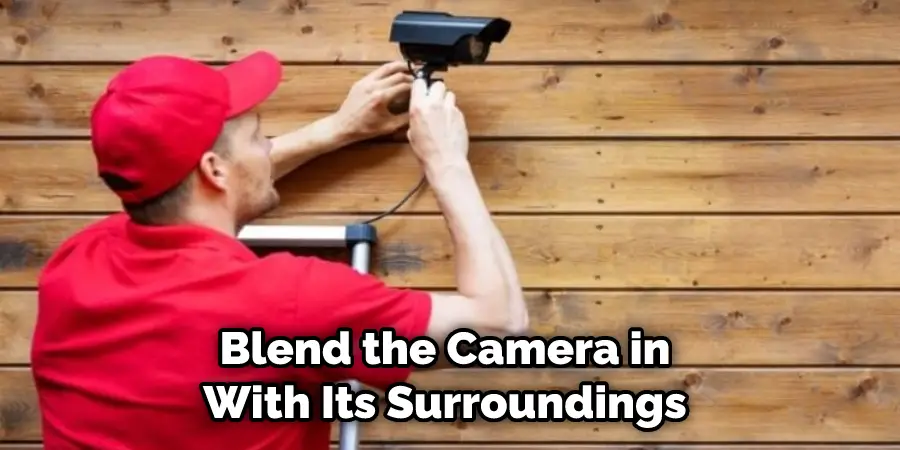 2. Not Disabling the Camera's LED Light
Another common mistake people make when trying to hide a camera is not disabling the camera's LED light. The LED light is a small light that is located on the front of most cameras. It is used to indicate when the camera is turned on and recording.
If the LED light is not disabled, it will be visible to anyone who knows where to look for it. To disable the LED light, you must access the settings menu on your camera and turn off the "LED" setting.
3. Not Checking for Reflections
Another common mistake people make when trying to hide a camera is not checking for reflections. If the camera's lens is reflected in a mirror or other surface, it will be visible to anyone who knows where to look for it. To avoid this problem, you should always check for reflections before you begin recording.
4. Not Using a Wide-Angle Lens
Another common mistake people make when trying to hide a camera is not using a wide-angle lens. A wide-angle lens allows you to capture more of your surroundings in the frame of your recording. This can be helpful if you are trying to capture someone who is moving around in a room or if you are trying to capture a large area.
5. Not Using Invisible Infrared Lights
Another common mistake people make when trying to hide a camera is not using invisible infrared lights. Infrared lights are invisible to the naked eye but can be seen by cameras that are equipped with night vision capabilities.
If you are using infrared light, make sure that it is pointed away from any windows or other bright surfaces so that it cannot be seen by anyone who knows where to look for it.
6. Not Checking Your Recording Device
Another common mistake people make when trying to hide a camera is not checking their recording device before they begin recording. If your recording device is visible, it will be easily spotted by someone who knows where to look for it.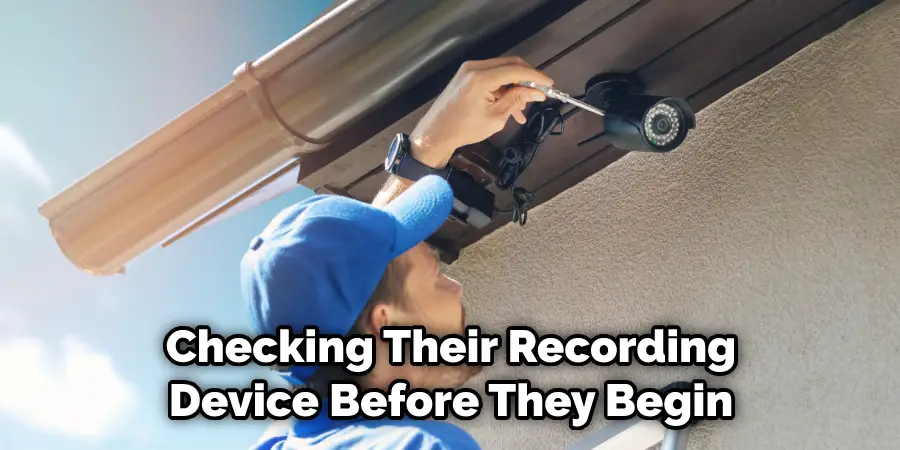 What Type of Wall Is Best for Hiding a Camera?
When it comes to finding the best wall for hiding a camera, it depends on the camera's purpose in the first place. If you're looking for optimum discretion, then a thicker wall type like concrete or brick is probably your best bet.
These walls can both physically and visually hide your camera more successfully than less obtrusive wall types such as drywall or painted paneling. Exposed outlets and wiring are an easy giveaway to a hidden camera, so shying away from studded walls and opting for concrete will be of greater use in terms of its protective properties.
Plus, if you're using wireless technology, soundproofing materials provide an extra layer of shielding against interference. Therefore, if your goal is privacy and security – look no further than concrete or brick walls when setting up a surveillance system!
Do Certain Colors Help Camouflage and Hide Surveillance Equipment Better Than Others When Placed on Walls?
Achieving optimal concealment of surveillance equipment is a tricky business. It often involves the strategic placement of the device as well as choosing colors that can help blend in with the surroundings.
Darker colors are more effective when it comes to hiding and camouflaging surveillance equipment on walls since light-colored devices are usually easily noticeable against wallpaper or wall decorations.
Utilizing neutral tones such as black, tan, and brown can help blend the product into its environment, making it difficult to detect without an intentional search. Furthermore, bulky devices must be hidden to prevent them from standing out; lighter colors only add attention to suspicious-looking items and should generally be avoided when concealing surveillance technology.
Is It Legal to Hide Cameras Inside Walls?
Although some people may be tempted to hide surveillance cameras within the walls of their homes or business, it is important to consider the legal implications before doing so. Depending on where you live, there may be laws regulating the type of cameras that may legally be installed in private homes and businesses.
Additionally, any footage gathered by these cameras typically can't be used in court without explicit permission from local authorities. Simply put, it's best to do your research before hiding a camera in a wall without consent since you could potentially face fines or other penalties for doing so.
Is It Difficult to Install and Wire up A Camera Through Walls?
Installing and wiring up a camera through walls can be tricky and should not be taken lightly. It's important to ensure you understand the process before undertaking it; otherwise, you might cause significant damage or end up with a faulty system.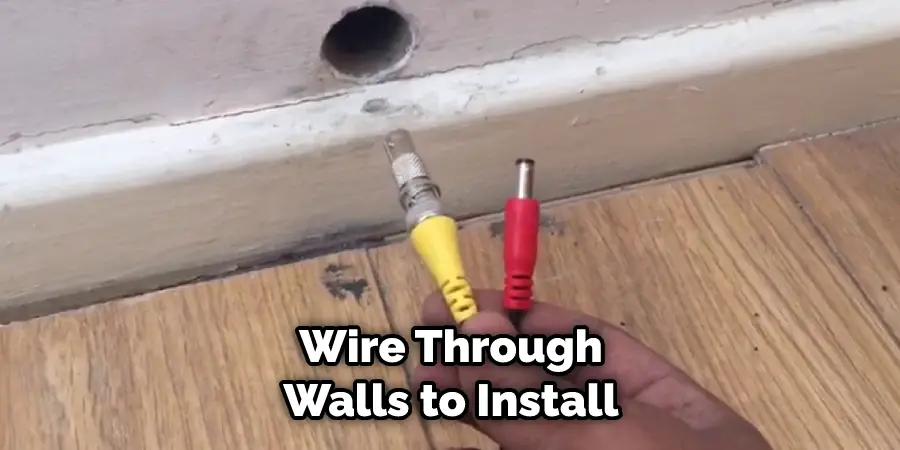 With proper knowledge, however, it can be relatively easy to plan out the necessary route and safely drill and wire through walls to install a camera system. Taking measures such as measuring twice, having all the necessary tools on hand beforehand, and wearing safety equipment are all essential for a successful installation or wiring process through walls.
Furthermore, if you're still uneasy about doing everything yourself, some professionals specialize in this type of work who can help ensure your camera works as it should.
How Much Does It Cost, on Average, to Purchase and Mount Hidden Cameras Into Walls?
Hidden cameras used for residential and commercial purposes can range in price from a few hundred dollars to thousands of dollars, depending on the features and resolution quality. In general, budget-friendly models cost around $350, while professional-grade models can exceed $1000.
Added costs include installation, which usually runs about $100 to install each camera, depending on where it needs to be placed and the complexity of the job. In addition, wall mounting requires specific tools and expertise, so DIY installation is not recommended unless you are confident with the task; otherwise, hiring a qualified professional is best.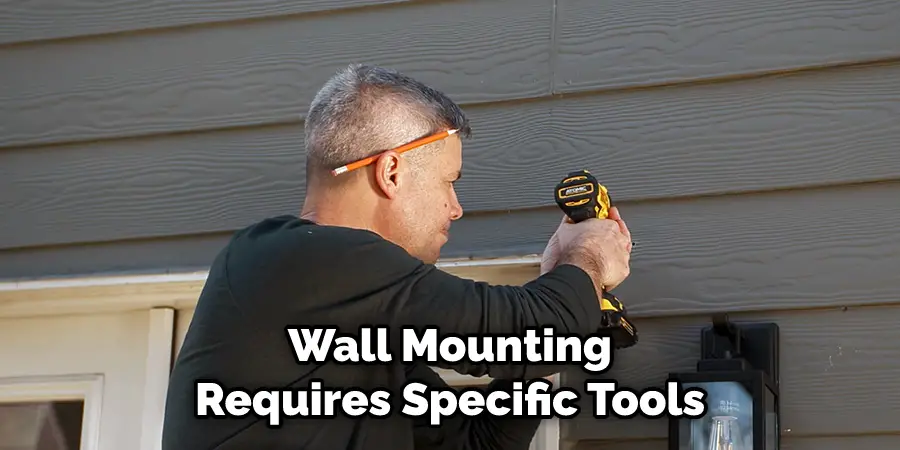 All in all, average consumers should expect to pay anywhere between $500-$1500 per camera, including installation fees.
Conclusion
Installing a security camera in your home can provide peace of mind when it comes to keeping an eye on things while away from home or when simply wanting extra protection within one's own space.
By following these simple steps mentioned above on how to hide a camera in a wall, homeowners can rest assured knowing their property is safe and secure without having an eyesore obstructing their view!
It's always best practice when installing any electrical device, such as surveillance cameras at home or business locations; make sure all local building codes are followed, and always contact a licensed electrician if unsure about anything at any stage during the installation process! Good luck!