Do you ever need to access something in your cabinet, but can't remember where the key is? Or when a curious child starts exploring areas that are off-limits, you want to give them one less place to investigate?
Locking a cabinet might be the solution for you. Keeping items secure while still making sure they're easily accessible can often be difficult; however, there are several methods of locking cabinets effectively and safely.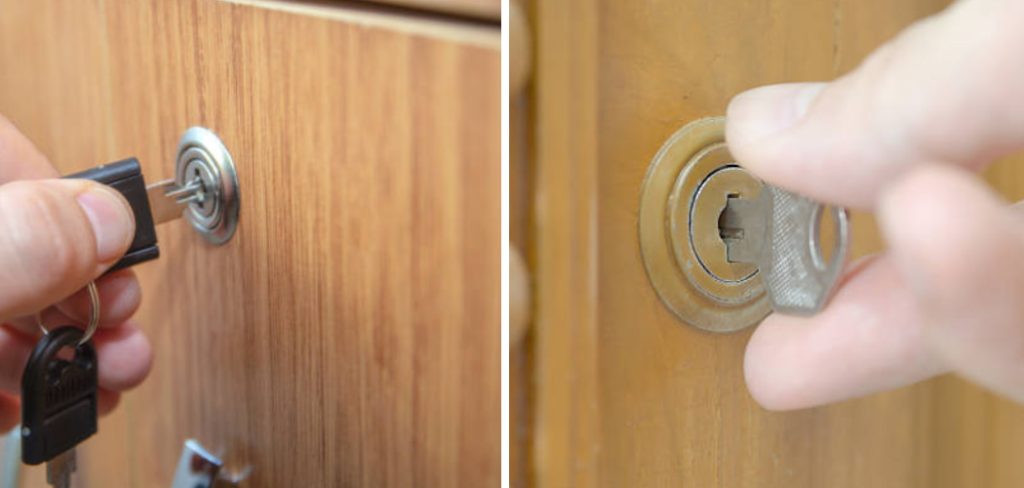 In this post, we'll cover some tips on how to lock a cabinet with ease so that no matter what ends up inside it, it will remain securely closed until only those authorized have access.
9 Best Ways on How to Lock a Cabinet
1. Use Padlock:
One of the most common ways to lock a cabinet is by using a padlock. There are different kinds of padlocks available, such as combination and key-based, so you can choose the type that works best for your needs.
The advantage of using a padlock is that it's simple and easy to use – just insert the shackle into the holes on the cabinet doors and lock it. While this method is easy, it may not be suitable for cabinets that have thin or flimsy doors.
2. Install a Latch Lock:
A latch lock is another great option for locking a cabinet. These locks come in various sizes and shapes to fit different types of cabinets. Most latch locks are installed on the inside of the cabinet door and require a key to open them from the outside. They are relatively easy to install and provide a secure locking mechanism for your cabinet.
3. Use Magnetic Locks:
Magnetic locks are an excellent choice for cabinets with glass doors or those that have handles on their sliding doors. These locks use magnets to keep the door closed and usually come with a key or remote to unlock them. They are easy to install and provide an added layer of security.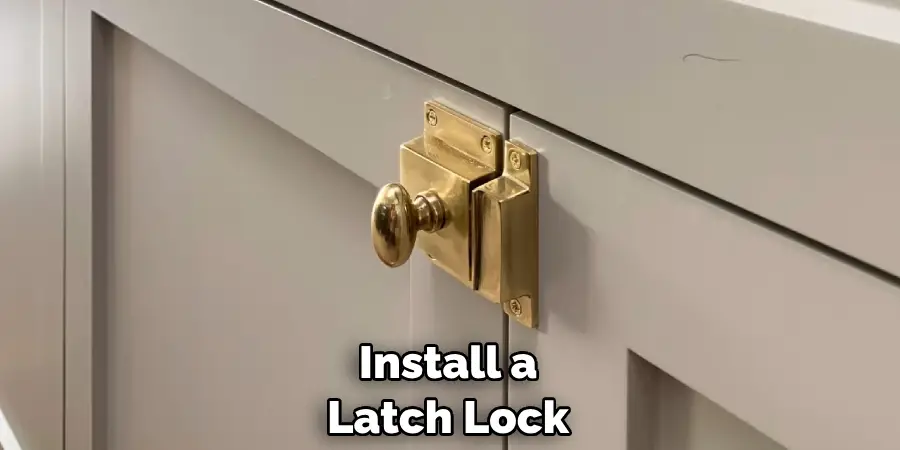 4. Utilize Cam Locks:
Cam locks are often used for file cabinets, but they can also be installed on regular cabinets. These locks have a rotating metal plate that secures the cabinet doors together and usually comes with keys for access. They are simple to install and provide a high level of security for your cabinet.
5. Try Combination Locks:
Combination locks are an excellent option for those who don't want to worry about carrying keys around or losing them. These locks require a combination code to open and can be easily reset if you need to change the code. Combination locks come in various sizes and styles, making them a versatile option for locking cabinets.
6. Use Cabinet Bars:
Cabinet bars are another simple and effective way to lock a cabinet. These bars can be easily placed across the cabinet doors, preventing them from being opened. They come in various lengths, so you can choose one that fits your cabinets perfectly. Using cabinet bars is a great option for cabinets with handles or knobs on their doors.
7. Try a Cable Lock:
If you have two or more cabinets next to each other, using a cable lock can be an effective way to keep them all secured. These locks use cables that run through the handles or knobs of the cabinets and lock together, preventing any of the cabinets from being opened. They are a great option for cabinets with thin doors.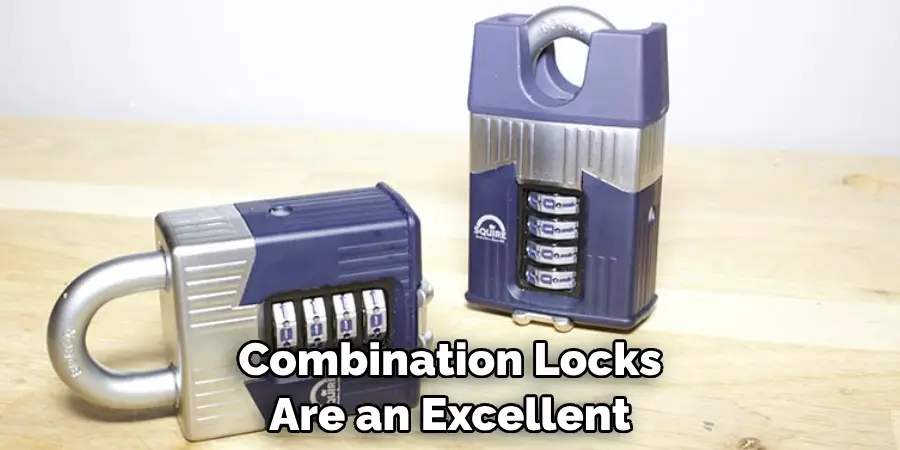 8. Install a Deadbolt Lock:
Deadbolt locks are a popular choice for securing exterior doors, but they can also be used on cabinet doors. These locks require a key to open and come in various sizes to fit different cabinets. Installing a deadbolt lock on your cabinet door provides an added layer of protection and can be a great deterrent for potential intruders.
9. Use a Hasp Lock:
A hasp lock is another excellent option for locking cabinets. These locks usually come in the form of a metal plate that attaches to the cabinet door with screws or bolts, and a padlock is used to secure it. They are relatively easy to install and provide a high level of security for your cabinet.
Following these tips, you can easily lock your cabinet and keep its contents safe and secure. It's important to choose the locking method that works best for your specific needs and cabinet type to ensure maximum effectiveness.
With these methods, you can confidently store items in your cabinets knowing they are locked and protected from unauthorized access. So next time you need to secure your belongings, try out one of these locking methods and enjoy a sense of peace with your locked cabinet.
Additional Tips and Tricks to Lock a Cabinet
1. When selecting a lock for your cabinet, make sure to choose one that is strong and durable. This will prevent it from easily being broken or picked by intruders. Additionally, consider getting a lock with multiple key copies in case one is lost or misplaced.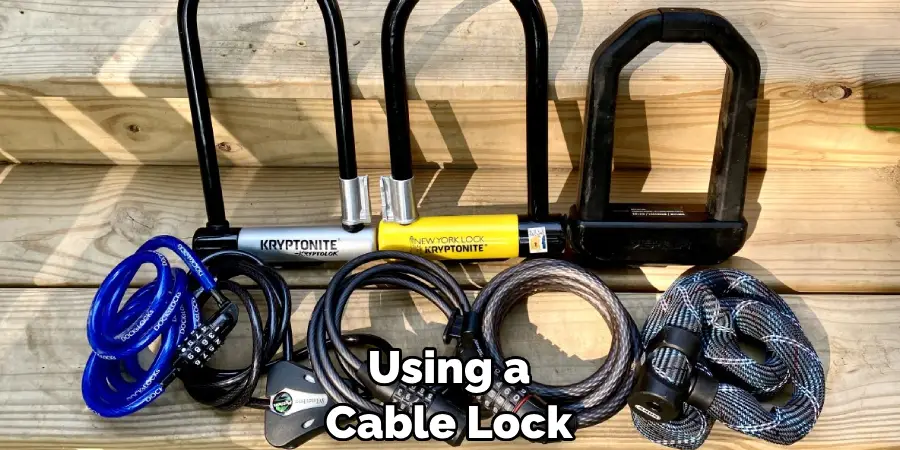 2. If your cabinet has handles or knobs, you can also install a locking mechanism on these to prevent them from being opened without a key. This adds an extra layer of security and can be especially helpful for cabinets with valuable items inside.
3. Consider adding a combination lock to your cabinet for added security. This eliminates the need for a key, making it harder for someone to gain access without your knowledge or permission.
4. To further enhance the security of your cabinet, you can also install an alarm system that will sound if it is tampered with or forced open. This can deter potential intruders and alert you if someone is attempting to break into your cabinet.
5. It is important to regularly check and maintain the locks on your cabinet. Over time, they may become loose or worn out, making them easier to break or pick. Make sure to tighten any loose screws and replace any damaged parts as needed.
6. In addition to physical locks, you can also use digital locks for added security. These locks typically require a code or fingerprint to unlock, making it nearly impossible for someone to gain access without your authorization.
7. If you have multiple cabinets that need to be locked, consider using a master key system. This allows you to use one key for all of your cabinets, making it more convenient and efficient while still providing the necessary security.
8. Finally, it is important to properly label and store your keys. This will help prevent confusion and ensure that only authorized individuals have access to the key for your cabinet. Keep them in a secure location, away from the reach of children or potential intruders.
By following these tips and tricks, you can ensure that your cabinet is properly locked and secure. Remember to also regularly check and maintain your locks for optimal security.
With these measures in place, you can have peace of mind knowing that your belongings are safe and protected. So next time you need to lock a cabinet, keep these tips in mind for maximum security.
Frequently Asked Questions
What is the Purpose of Locking a Cabinet?
Locking a cabinet can serve multiple purposes, such as keeping sensitive or valuable items secure, preventing unauthorized access to hazardous materials, or simply maintaining organization in shared spaces. It can also provide a sense of privacy and protection for personal belongings.
What Types of Cabinets Can Be Locked?
Most types of cabinets can be equipped with locks, including file cabinets, storage cabinets, medicine cabinets, and more. Depending on the type of cabinet and its purpose, there are various locking mechanisms available such as key locks, combination locks, padlocks, or electronic locks. Some cabinets even come with built-in locking capabilities.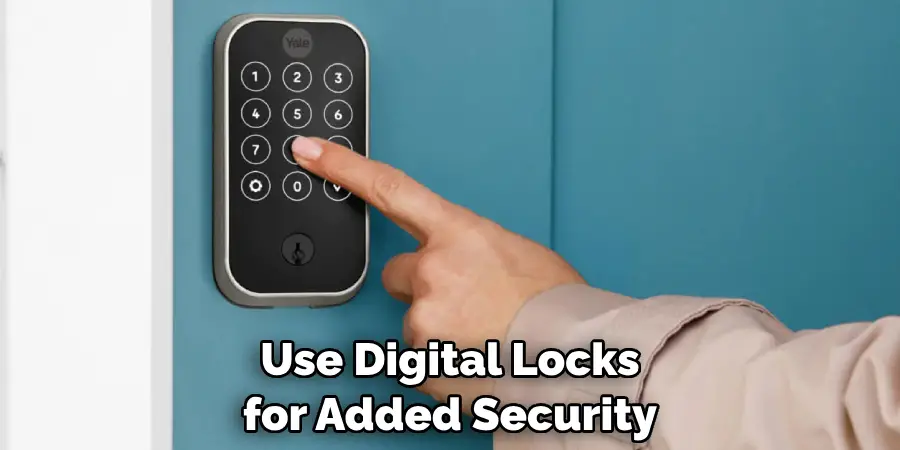 How Do I Choose the Right Lock for My Cabinet?
When choosing a lock for your cabinet, consider the level of security required and the type of items being stored. For example, if you are storing sensitive or valuable items, a key lock or combination lock with a high-security rating would be recommended.
If the cabinet is used for everyday storage and easy access is important, a simple padlock or electronic lock may suffice. Also, make sure to choose a lock that is compatible with the cabinet's design and dimensions.
Conclusion
It is important to keep cabinets locked in order to protect your valuables and provide an extra level of security. Following the steps in this article, you should now have a secure cabinet that only you can access. Remember that even the most basic locks can provide an extra layer of protection and peace of mind.
As with any home security measure, it is always best to double-check that the lock works properly after installation. For those looking for more security, consider investing in more advanced lock systems which may require a professional installation and monitoring system.
Either way, if you are looking for more secure options on how to lock a cabinet, these tips should orient you in the right direction. If you ever need help installing or troubleshooting your lock system, don't hesitate to call an experienced locksmith who can offer sound advice and reliable service.